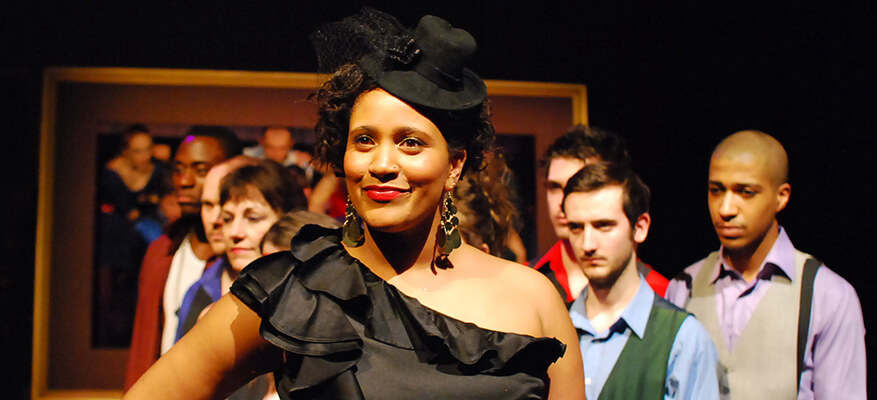 The Bridge was established in 1993 by Judith Pollard, Mark Akrill and other directors, actors, choreographers and musicians who felt strongly that drama courses were too often prohibitively expensive.
The aim was simple: to make the highest level of actor training accessible to all, to produce actors from a mix of social and cultural backgrounds and, by doing so, to enrich the theatre, radio, film and television.
Based in the heart of London's Camden Town, we're a non-profit making company providing professional actor training of the highest quality from actors, directors, performers, musicians and choreographers working at the top of the industry. Because we are an educational charity, many services are donated to The Bridge so you pay less for your training.
Our approach
We do not see actors as machines. Instead, we give them an approach to acting and a method that they can use independently, and that they can extend for themselves.
We place the actor's own creativity at the heart of theatre training, encouraging in people a strong sense of the importance of a company and of theatre as a collaborative process.
Once you graduate we will continue to work with you, providing everything from advice on contracts to industry contacts, and from help preparing for auditions to opportunities to work with us in a professional context.
Graduates from past years regularly return to work with us, rehearse for auditions, attend events, and catch up with news.
The Bridge has given people chances that they would never otherwise have had and genuinely changed lives. We have been able to support people – sometimes employ them – long after their graduation.
Support Our Work
As a non-profit organisation we accept donations from the public which goes towards our John Greenwood Student Hardship Fund. This fund directly benefits individuals in need and helps fund students who may otherwise be unable to follow their dreams and begin their professional training. Your help can make an incredible difference in someone's life and career.
Another way you can help is through Easy Fundraising:
If you shop online, sign up to #easyfundraising and help our John Greenwood Student Hardship Fund raise free donations with all your favourite brands! Every time you use the easyfundraising website or app to shop online with over 7,500 websites including big names like Expedia, Just Eat, John Lewis & Partners, Argos, Uswitch and eBay, we'll get a donation. It won't cost you a penny and it will really make a difference to us. Thank you!
Our story is, of course, still being written. Come and be a part of it.

"The Bridge is a place for hopes and dreams to become reality."
Libby Edwards, Graduate